Make a gift of your greatest desire
The "One million Mimos" Gift Card fulfils and expresses your desire to care for, to thank and to pamper the body and soul of that special person.
Because you also need and deserve caresses. You can also enjoy a million caresses at an exceptional price.
In addition, for each card sold we will contribute 1€ to local food banks for projects aimed at helping the many families who are in need, now more than ever.
20% discount on MIMMA15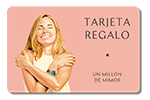 Conditions
For online Gift Card purchases until 15th July.
–
Not applicable in conjunction with other offers, services or special rates.
–
The Gift Cards are valid for two years from the day following the date of issue.
–
Subject to availability.
*Mimos= Caresses